Wednesday, 22 Mar 2017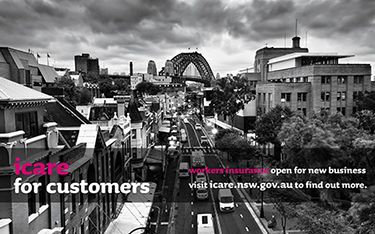 iCare (formerly WorkCover NSW) has announced that from 1 March 2017, "All new businesses will now get a quote and buy a new policy directly from iCare rather than an insurer (scheme agent)".
The existing client renewals are expected to also be administered by iCare from 30th April, 2017.
What this means is that the renewal of your policy from 30th April, 2017 onwards will be administered directly by iCare, rather than your current provider.
CGU Workers Comp have also announced that they won't be re-submitting to be a scheme agent post 31st December, 2017. We expect existing CGU workers compensation claims to transition to another agent, at this stage the remaining agents are GIO, QBE, Allianz & EML.
While the agent submissions are still being evaluated, iCare have made no secret there will be further changes to the scheme agents & we expect to know more about the landscape from 1st January 2018 onwards by the end of April, 2017.
You will still have a choice of the remaining scheme agents for the claim servicing.
While this introduces a new level of self-service independence to business owners, it also requires them to know how best to meet their needs without the assistance of a scheme agent.
Our clients can rest assured that the team at Workers Comp Risk Services is on hand to explain these changes, assist you through future changes and keep your workers comp spend to a minimum.
We encourage you to contact our office at any stage and make sure your business gets the service you deserve.
"Workers Comp Risk Services – Mitigating risk with cost-effective solutions"
To find out more about iCare Workers Compensation please contact our office.
Troy Wiseman
Authorised Representative | Austbrokers City State