Wednesday, 31 May 2017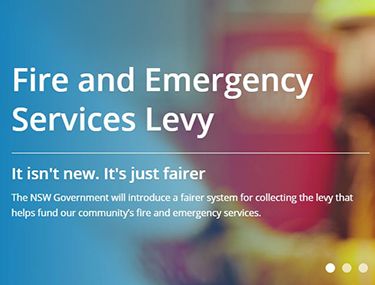 For the last 12 months, insurers and brokers have been advising clients that from 1st July 2017, FSL would no longer be charged on insurance premiums and instead would be changed to FESL, which was to be included in Council Rates charges.
On May 30th, the NSW Government announced that this change has been delayed indefinitely. "The Fire and Emergency Services Levy will continue to be collected via insurance policies until the NSW Government has completed its review of the policy, and the funding requirements of fire and emergency services agencies will be met in full," the Government said in a statement.
With only a month to go before the changes were to take effect, a lot remains unknown for insurers and brokers on how insurance premiums will be effected moving forward. CEO of the National Insurance Broker's Association (NIBA) Dallas Booth said: "It is not yet clear what will happen in relation to ESL levy on insurance premiums after 1 July 2017. NIBA expects to attend a meeting with the Government and insurers later this week to discuss the issue."
The staff at Austbrokers City State will be vigilant in keeping our client's updated as we receive more information and are available to answer any questions that may arise.
For further details relating to the changes please review the following articles:
Alicia Thomas
Account Manager | Austbrokers City State